Octagonal Blender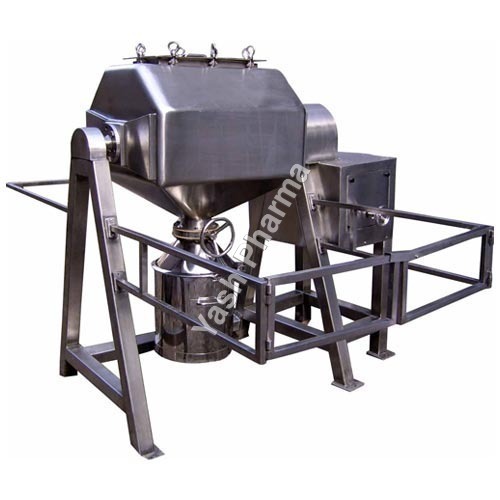 Octagonal Blender
Product Description
Leveraging on our vast industry experience, we are offering our clients a finest quality range of Octagonal Blender. The offered blender is fabricated by our team of professionals using premium grade raw material and latest techniques to meet the international standards. This blender is used mainly in pharmaceutical industry for mixing dry granules, tablets and capsules formulations. Despite this, we offer Octagonal Blender after stringent quality testing procedure and also in various specifications depending on the specific need of our clients.This Octagonal Blender is designed to meet the demands of the most high-performance of chefs. Offering eight-sided blades that provide exceptional blending power, and a sturdy construction designed for longevity, the blender ensures top-notch results every time. Its stylish and simple to clean design make it the ideal solution for all requirements.
Features:
Less power consumption
High performance
Easy operation
Durable finish standards
Specifications:
The Octagonal Blender is an efficient and versatile blending machine for mixing and lubrication process of dry granules homogeneously. Two third of the volume of the Cone Blender is filled to ensure proper mixing. The Octagonal Blender gives best result for granules due to very slow speed and octagon shape of container. It can be used for Pharmaceutical, Food, Chemical and Cosmetic products etc.

In Octagonal Blender the granules comes from all sides due to the octagonal shape of the product container, hence requirement of RPM is less. Suitable mainly for Crystalline & Granular type material. This type of material gets sufficient continuous movement due to their shape if container have only slow movement and will results in good quality of blending / lubrication of granules.
Specification
| | |
| --- | --- |
| Material | SS |
| Automation Grade | Semi-Automatic |
| Phase | 3 |
| Voltage | 440 V |
| Motor Power | 2 |
| Warranty | 1 Year |
| Brand | Yash Pharma |
| | | | | | |
| --- | --- | --- | --- | --- | --- |
| Cap in kgs | Cap in ltrs | Gross volume | Motor | Discharge valve | Overall dimensions L X W X H |
| 100 | 300 | 375 | 1.5 | 150 | 2165 X 1535 X 2585 |
| 165 | 500 | 600 | 2 | 200 | 2250 X 1800 X 2700 |
| 200 | 600 | 725 | 2 | 200 | 2300 X 1800 X 2800 |
| 250 | 750 | 875 | 3 | 200 | 2300 X 1850 X 2800 |
| 265 | 800 | 950 | 3 | 200 | 2350 X 1000 X 2800 |
| 335 | 1000 | 1150 | 5 | 250 | 2700 X 2100 X 3050 |
| 400 | 1200 | 1300 | 5 | 250 | 2800 X 2270 X 3050 |
| 500 | 1500 | 1700 | 5 | 250 | 2850 X 2525 X 3120 |
| 650 | 2000 | 2200 | 7.5 | 300 | 2800 X 2800 X 3350 |
| 850 | 2500 | 2700 | 7.5 | 300 | 2800 X 2800 X 3450 |
| 950 | 2800 | 3500 | 10 | 300 | 2800 X 2900 X 3500 |
| 1200 | 3400 | 4000 | 10 | 300 | 2900 X 3000 X 3700 |